Changes on statutory requirements for AGM and filing of AR
Companies due to hold AGMs in the coming months should take note of changes to the timelines for holding AGMs and filing of ARs following a legislative change to the Companies Act which took effect on 31 Aug 2018.
Listed companies with FYE ending on or after 31 Aug 2018 must now hold their AGM within four months after FYE and file the AR within five months after FYE, while all other companies must hold the AGM within six months after FYE and file the AR within seven months after the FYE.
Alignment of timelines for holding AGMs and filing ARs to the Financial Year End (FYE)
To provide greater clarity for companies and reduce the compliance burden, the timelines for holding Annual General Meetings (AGMs) and the filing of annual returns will be aligned with the company's FYE.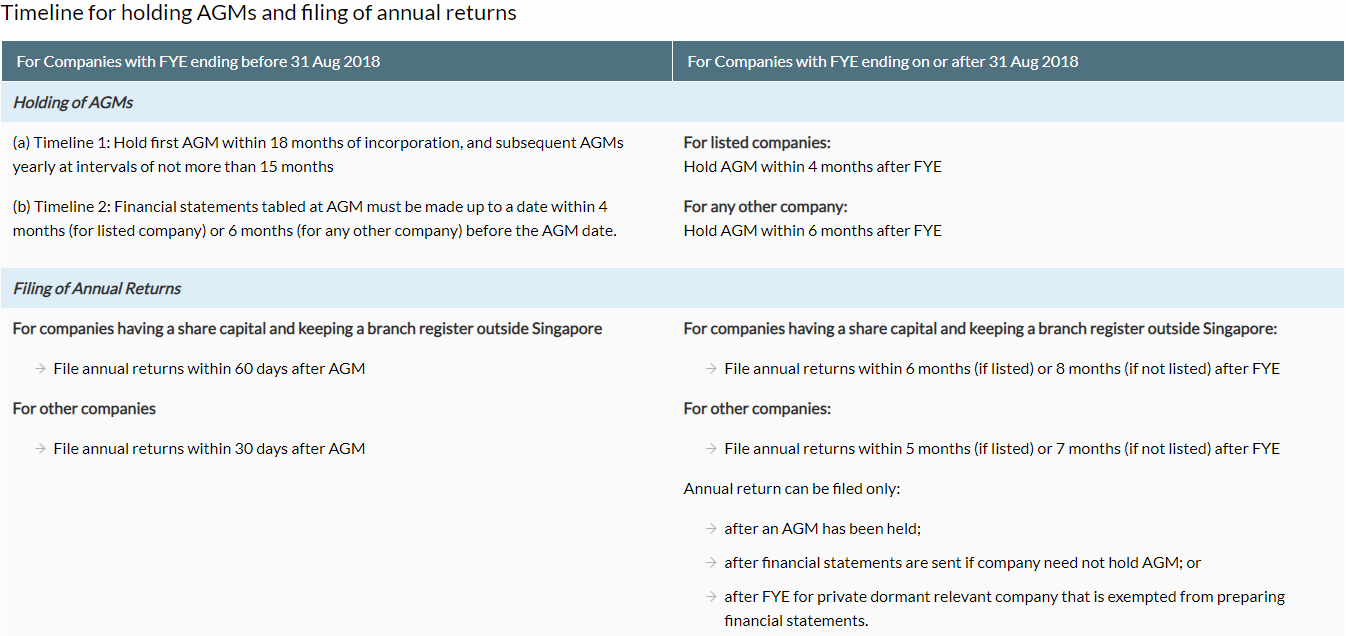 To prevent companies from arbitrarily changing their FYE, the following safeguards are put in place:
companies must notify the Registrar of their FYE upon incorporation and of any subsequent change;
companies must apply to the Registrar for approval to change their FYE:

if the change in FYE will result in a financial year longer than 18 months; or
if the FYE was changed within the last 5 years; and

unless otherwise approved by the Registrar, the duration of a company's financial year must not be more than 18 months in the year of incorporation.
only FYE of the current and immediate previous financial year may be changed (provided that statutory deadlines for the holding of AGM, filing of annual return and sending of financial statements have not passed).
A company's financial periods starting on or after 31 Aug 2018 by default will be taken to be a period of 12 months for each financial period.
Important information for companies with unusual financial year period
Companies with an unusual financial year period (e.g. 52 weeks) should notify ACRA via the notification of change of FYE if they want to avoid applying for approval to change FYE every year.
Important information for newly Incorporated companies that have yet to file Annual Returns
Companies incorporated before 31 August 2018 have their FYE deemed by law to be the anniversary of the date previously notified to the Registrar as their FYE date. In the absence of such notification before 31 August 2018, the anniversary of the date of incorporation is deemed by law to be their FYE. Companies can change their FYE by notifying ACRA before or after 31 August 2018.
Illustrative timelines of AGM and AR obligations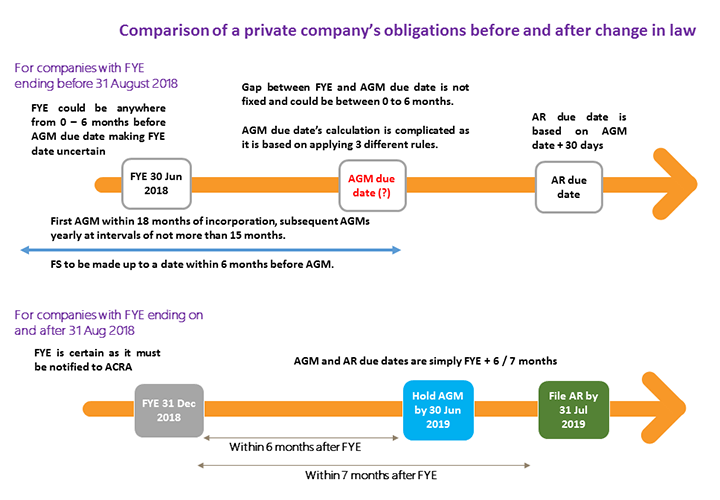 Worried about not filing your AGM and AR on time? You should focus more on your business operations and let us assist you as the Company Secretary to file the AGM/AR before the due date. Find out more about our Company Secretarial services here.